How airbags save lives


A look at the mechanics
of air bag safety


By Christine Miller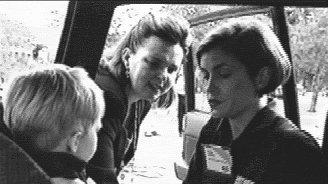 Photo courtesy acm.sc.umn.edu
Place small children in the back seat of cars equipped with passenger airbags.
Airbag Safety Tips
The risk zone for driver airbags is the first 2-3 inches of inflation; place yourself 10 inches from your driver airbag.
Children and airbags do not mix. Airbags could seriously injure or kill children who are sitting in the front seat;
Infants in a rear-facing safety seat must never be placed in the front seat of a motor vehicle with a passenger-side airbag.
Airbags, when combined with lap/shoulder safety belts, save lives and prevent injuries in motor vehicle crashes.
Adapted from:


National Highway Traffic Safety Administration
In the past several years controversy over the value of airbags has increased with reports that airbags have killed 20 adults and 32 children, according to an article in the January, 1997, issue of Consumers' Research. On the other hand, they have prevented an estimated 1,600 crash fatalities.

In 1997, President Clinton announced that car owners will be allowed to deactivate their airbags with the help of a mechanic. Is this the answer to the airbag problem?

Airbag sensors are set to inflate during a frontal and near-frontal collision. The inflation's forces is comparable to hitting a concrete barrier at 10 to 14 miles per hour. The purpose of the airbag is to supplement the safety belt and reduce the likelihood that the occupant's head and body will strike some part of the vehicle.

Airbags must inflate within 1/20th of a second, faster than the blink of an eye, in order to work. They inflate at 200 mph. On occasion, this rapid force has caused injuries and even some deaths. Here lies the problem.

Mrs. Berniece Foster, a recent victim of an airbag injury, states "I hope I never have to go through that experience again. The airbag came out with such force that it broke my arm. It was the worst experience of my life." When asked if she thought airbags should be used in cars she said, "Without the airbag, my injuries may have been much worse. So, I still believe that airbags should be mandatory. I consider myself lucky."

Currently, the National Highway Traffic Safety Administration has given drivers a choice to keep their airbags active or not. Individuals must weigh the options carefully and then decide.