Cracking up
with Mr. Traffic


A chat with
Kenny Morse, aka
"Mr. Traffic"


By Mary M. Ford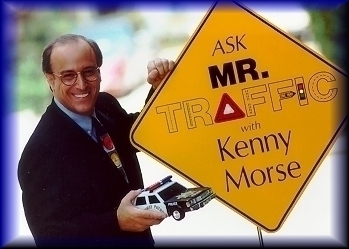 Photo courtesy http://mrtraffic.com


With a few props, Kenny Morse transforms his spartan cable TV studio into an attention—grabbing,
live call-in show.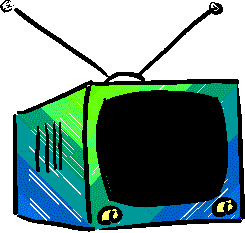 Graphic by Kenny Morse
"Driving a car is the most dangerous thing you can do in your life; drive as if your life depended on it."
Most people find traffic safety about as glamorous as taking out the garbage or going to a funeral. Most people, that is, except Kenny Morse. In his cable show, Ask Mr.Traffic, Morse put glamor into traffic safety by adding the missing element: humor.

When comedian Kenny Morse took a temporary job as a traffic safety instructor, he recognized it as a golden opportunity. He realized he could plunder the terrain of traffic safety for his comedy material. Better still, as Mr. Traffic, Morse discovered a hungry audience that appreciated his knowledgeable advice and sage philosophies.

"Ask Mr. Traffic" live on cable
Although Morse was an actor by choice and traffic safety instructor by chance, he used this twist of fate to infuse his passion for comedic acting with his other passion—traffic safety. As host of Ask Mr. Traffic, a live call-in show on cable TV in Los Angeles, Morse chats with call-in viewers.

He has also appeared on national TV shows including Good Morning America, The Home & Family Show on The Family Channel, Extra, and E!'s Talk Soup. In 1995, Morse turned his traffic safety program loose on the Web (http://mrtraffic.com), where it has won a fanatical following.

Morse never expected to find himself as a traffic safety expert. He admitted "it just kind of happened. I don't intend to be Mr. Traffic forever. I still act." As if to hint at his other ambitions, his Web site opens on a starry background in which a Star Trek spaceship warps back and forth across the screen.

Sense of humor helps
"A sense of humor affects everything that you do. When you are stuck in bumper to bumper traffic, laugh" Morse advised, "because getting steamed is not going to help you. Have some good comedy books on tape or listen to some cool music on the radio and just chill."

For Morse, his impact as Mr. Traffic has proved rewarding. "Now and then I actually save lives." He relayed one such case: "I walked into my traffic school office one day, and I saw this person, in a full body cast, pointing at me." Morse reeled in terror, thinking, "Oh my God, what did I do?" "Then, this person starts yelling 'that's the guy I'm talking about! That's him! That's the guy who saved my life!' " Morse explained.

The man had crashed his car when someone ran a red light (one of the biggest causes of car crashes in this country). Just prior to the crash, he had attended Morse's traffic school for a speeding ticket. Before that, "he never wore a seat belt;" later, he did.

Morse's initial moment of horror turned to elation when he realized that his advice had actually saved the man's life. "Now and then people listen," Morse sighed.

An antidote to road rage
Morse advised that "driving a car is the most dangerous thing you can do in your life; drive as if your life depended on it. Ultimately," Morse reiterated, "the antidote for road rage is [the golden rule]—driving as you would have others drive. Try to laugh at yourself and at others. That will get you through traffic and the highway of life."

Morse conceded that he has not reached his goals in acting. However, his TV show has won a rabid cult following. And the media awards continue to stream in—confirming that, Oscar or no Oscar, Kenny Morse is the answer man for traffic safety.