Daytime
running lights—
necessary feature?
By Karen Wims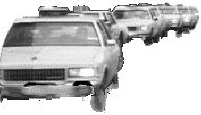 Graphic by Mary M. Ford
Many cars are equipped with daytime running lights (DRLs). DRLs are automatically engaged with a reduced intensity when the ignition is activated. Saab, Volkswagen, and Volvo equip some models with DRLs, and General Motors has made them standard on all models since 1995.

Much research has been conducted which supports the effectiveness of this safety feature. Most notably, a 1975 study done by Transport Canada found that vehicles which operated with automatic headlights were involved in 20 percent fewer collisions than were unmodified vehicles.

DRLs lower crashes
In 1985, the Insurance Institute for Highway Safety did a study that included more than 2,000 cars, vans, and light trucks whose lights were automatically switched on with the ignition. It concluded that the proportion of multiple-vehicle crashes was lower for vehicles equipped with DRLs.

Some would say that this feature is nothing more than a veiled excuse for car manufacturers to inflate their prices. Sam Moses, a columnist for AutoWeek magazine, views DRLs as useless. In the article, "Scream First, Shoot Later," he cites several reasons why DRLs might be more dangerous.

For instance, Moses theorizes that motorcycles with DRLs will become virtually invisible. He predicts that drivers will eventually become desensitized to DRLs as they adjust to seeing them more often.

Additionally, Moses states that cars not equipped with DRLs will be much harder to see, resulting in higher crash rates for these cars. Lastly, he points to the fact that most of the research was done in countries where more miles are driven on one-way, multi-lane freeways than two-way, two-lane rural roads.

DRLs standardized on autos
In spite of Moses' assertions, manufacturers are making DRLs a standard safety feature on most automobiles. Car manufacturers have the advantage of research on their side which lends credibility to what is becoming a common practice.